ABOUT US
Norwich Jazz Club has been established in the city as a place to hear great live jazz every Tuesday night since 1989.
Tirelessly run by Barbara and Mike Capocci until 2010, the club is now under the directorship of pianist Simon Brown (taking over from Brian McAllister in Oct 2015) and whose programme continues to feature jazz to suit a wide range of tastes, from mainstream through to the most exciting contemporary projects, and featuring local, national and international artists alike. Visiting solo artists are accompanied by the house trio, comprising Simon Brown (piano) Ivars Galenieks (bass) and Brian McAllister (drums).

The club is now based at the Maddermarket Theatre's Redwell Bar. To find out more, please visit our venues page.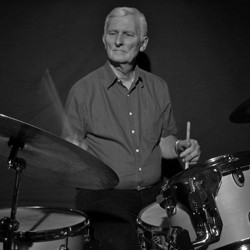 HOUSE
BAND


PROFILES
Brian
McAllister
Drums
Brian McAllister
Brian turned professional in 1966 and did the usual round of summer seasons, shows, night clubs and gigs.

In 1969 he joined the QE2 for her maiden voyage to New York. He saw many of the jazz greats in that city including Miles Davis, Bill Evans and Elvin Jones and has had a love affair with the city ever since.

One of the highlights was in 1970 when the Count Basie Band joined the QE2 as cabaret, and Brian jammed with Eddie 'Lockjaw' Davis and Sarah Vaughan.

Since then he's accompanied such people as Jim Mullen, Peter King, Gilad Atzmon, Scott Hamilton and many more.

"I love jazz, love playing it and have a long and promising career behind me!"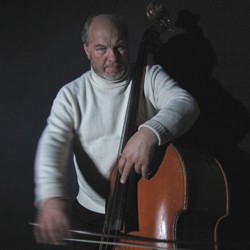 HOUSE
BAND


PROFILES
Ivars
Galenieks
double bass
Ivars Galenieks
Ivars Galenieks was born on 28th July 1952 in Riga, Latvia. He studied piano, oboe and double bass, graduating from the Latvian State Conservatoire on double bass.

His musical career began at the age of 15, playing double bass in restaurants, and later moving on to electric bass. After graduating from music college he worked in the Latvian Theatre of Operetta, then with composer Raimonds Pauls. He also worked for several years as a pianist at sports school, using his position to develop his improvisation skills.

He worked in Riga's music instrument factory as a stringer, laying strings to more than 700 pianos and ultimately gaining his piano tuner's qualification. Ivars continued his work in the piano field part-time, and as a freelance piano tuner, holding a position in a workshop which specialised in restoring antique furniture and pianos. After three years spent in the factory, he joined the Latvian State Symphony Orchestra where he worked for ten years.

His interest in jazz started at the age of 15. Around this time the ideology-tired Soviet regime meant that jazz was an underground culture, to the point where there were only two 'official' concerts of live jazz. Ivars attended both, and his main interest has been in jazz ever since.
His active jazz life started in 1981 when he made his first appearances in jazz festivals. Throughout the 80s he played with several Latvian jazz groups: The Raimonds RaubiĀ?ko Trio, the Vladimir Vainer Quartet and the Egils Straume Trio - as well as having a fruitful collaboration with Siberian pianist Igor Dmitriev and saxophonist Anatoly Vapirov.

In 1988 Ivars recorded his own album Transsiberian Express, followed by CDs with Alexander Smirnof (Rainy Day), Japanese pianist and singer Keiko McNamara (Millions of Roses) and with Norwegian guitarist and composer Joern Skogheim (Joy). More recently he has recorded the St. Malo Suite by John Leslie arranged by Ray Simmons, and Propensity with the "Monk Inc" band.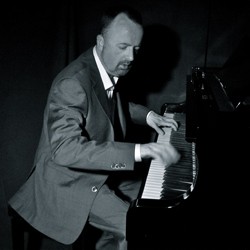 HOUSE
BAND


PROFILES
Simon
Brown
Piano
Simon Brown
Originally from the West Midlands, Simon graduated from UEA in 1990 and subsequently established himself in the Eastern region as tutor, performer, arranger and musical director. He regularly performs with a wide range of top UK & US artists in the regionĀ?s jazz clubs, and is also an experienced accompanist for vocalists, having gained considerable experience on LondonĀ?s open-mic circuit. He currently runs the Open Mic / Jazz Jams at the club's Monday night sessions.

Transcription and arranging have formed a large part of his work over the last 20 years and Simon regularly fixes and directs ensembles for shows and jazz club nights. He has directed the house band for an annual charity event at Norwich Playhouse since 2003. His tongue-in-cheek TV theme-tune band The Sitcom Sextet was formed in 2004 as an antidote to regular function work, and his jazz quintets Beyond Cantaloupe and Back To Birdland were formed to celebrate the 1960s output of Herbie Hancock, and the unique sound of George Shearing.

Beyond performing, Simon is increasingly involved in event promotion and production, and as well as running Norwich Jazz Club, launched the Jazz Weekender festival in 2014.